Wet Pendulum Slip Ratings
Wet Pendulum Slip Ratings
A wealth of incomplete and misleading information clouds the internet, in all areas, not just with regard to slip resistance ratings, but here's our effort at providing some clarity in our narrow area of expertise.
Slip resistance ratings, by method
R values (e.g. R11)
These come from German ramp testing method DIN 51130. The method sees a person wearing safety footwear walking up and down a sample contaminated with motor oil. The sample is gradually inclined until the person slips, and the angle at which the slip occurs is classified accordingly (R9 is the worst and R13 the best). This method doesn't tell you much about the risk of a person slipping in normal footwear in wet conditions, as the test uses safety footwear and oily conditions.
A, B C classification
These come from a similar German ramp test method, DIN 51097. This method is identical in operation but sees the test operator in bear feet and the surface contaminated with soapy water. Slip angles are classified from A (worst) to C (best). In this case because of similarities between the Pendulum barefoot slider and water vs soapy water contamination, it is typical that a C classification will equate to a 36+ 'low risk of slip' classification with the Pendulum.
Rz values (e.g. 17.4µm)
These come from surface roughness measurement, using a handheld electronic device to drag a stylus across a floor surface and measure the microscopic undulations. This method is expressly recommended by the HSE and UKSRG in support of Pendulum test measurements but is often used (dangerously) in isolation. In our experience the value correlates with Pendulum classification of floor surfaces approximately 75% of the time.
Being the UK regulator's and UK Slip Resistance Group's preferred test method, the BS 7976-2 Pendulum value is regularly used to determine whether a surface is safe or slippery for slip and fall personal injury cases. Care must be taken to interpret the rating correctly however, as differences in test parameters have a critical impact on the meaning of the value produced. A surface quoted as "36+PTV" for instance sounds great, but the claim is so vague as to be meaningless. There is no information regarding the condition in which the 36+ value was achieved, or which slider/sole type was used. Another issue with wet PTV ratings is that there are a number of test methods capable of producing PTV's. A different methodology is likely to produce a different result. A more useful rating would then be "36+ in wet conditions when tested to BS 7976-2 with slider #96/4S", providing a clear indication that the surface is safe and suitable for external pedestrian areas where bare feet are not to be expected.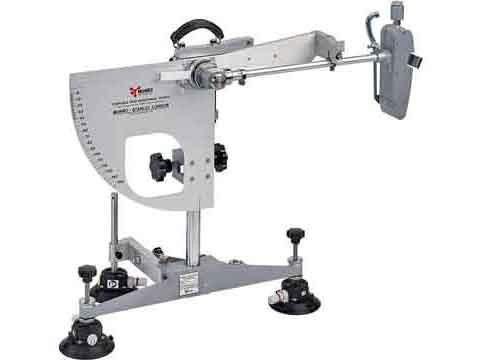 Understanding Pendulum slip ratings
The proper test data is beneficial only when correctly interpreted. Contrary to some sources, there is no requirement for all floor surfaces to achieve a 36+PTV value in dry and wet conditions. Determining whether the wet Pendulum slip rating you have is acceptable or not will require consideration of other factors.
The HSE classify PTV's of 36 or greater as a "low risk of slip". Research suggests that this equates to a 1 in 1,000,000 chance of losing grip. In terms of slip injury legal cases, it is this 'low risk' classification cut-off that is considered the decider of whether the surface is safe or slippery.
There are explicit and general requirements in UK law that floor surfaces are safe and not slippery, however every floor will be slippery in certain situations. It is generally considered that achieving 36+PTV in the conditions of end use satisfies the obligation to provide a surface which is not slippery. It is essential that you ensure the "end use conditions" are reflected in the 36+PTV value you hold, for instance a pool surround may be "43PTV wet with #55", whilst an internal corridor may acceptably achieve "55PTV dry with #96".
So, in summary, if you are interpreting wet Pendulum slip resistance ratings, or indeed other slip resistance ratings, you must be aware of the requirement of the regulatory system if your part of the world and ensure that the values you hold describe a safe level of grip in end use conditions. It can be daunting, it is a technical field, however we stand ready to help with expert impartial advice.
If you don't hold wet Pendulum slip resistance values for your floor, well we can help with that too. Munro's risk assessment slip tests are conducted to the same standard as those we produce for the court in slip and fall legal claims, we don't benefit from any anti-slip products or solutions, and all works are conducted in accordance with the Health and Safety Executive's preferred method the BS 7976-2 Pendulum to UKSRG Guidelines.
For free, impartial and expert advice on slip resistance testing, contact Munro today.