Pendulum Slip Testing for Risk Assessment
Did you know that floors classified as 'low risk' are unlikely to land responsible parties in trouble even if a slip accident occurs? Munro's slip risk assessment service uses a Pendulum slip testing device to help you identify and rectify slippery surfaces, reducing the risk of slip to an acceptable minimum, and providing defence against one of the most common accident types.
What to expect from a slip test visit
There are a myriad of reasons to assess the slip resistance of flooring in situ. Our services have been used to provide evidence of compliance (or non-compliance) with specification, determine the impact of cleaning regimes or operating procedures on slip risk, ascertain the slip risk posed by different surfaces throughout a room, building or estate, or as a means to settle disputes between owners, operators, suppliers, contractors or users.
One common benefit of Munro's in situ slip risk assessment is that it considers all factors affecting the potential to slip and produces one of two things;
Clear and concise evidence that the surface presents a safe level of grip in end-use.
Evidence that surfaces require improvement, supported with expert impartial advice on the likely cause and, crucially, the most cost-effective means of improvement.
Whether you are looking to improve the defensibility of spurious slip injury claims, or provide those who hold to purse strings with clear evidence of a problem, Munro's pendulum slip test service is likely to be a sound investment using the Pendulum test.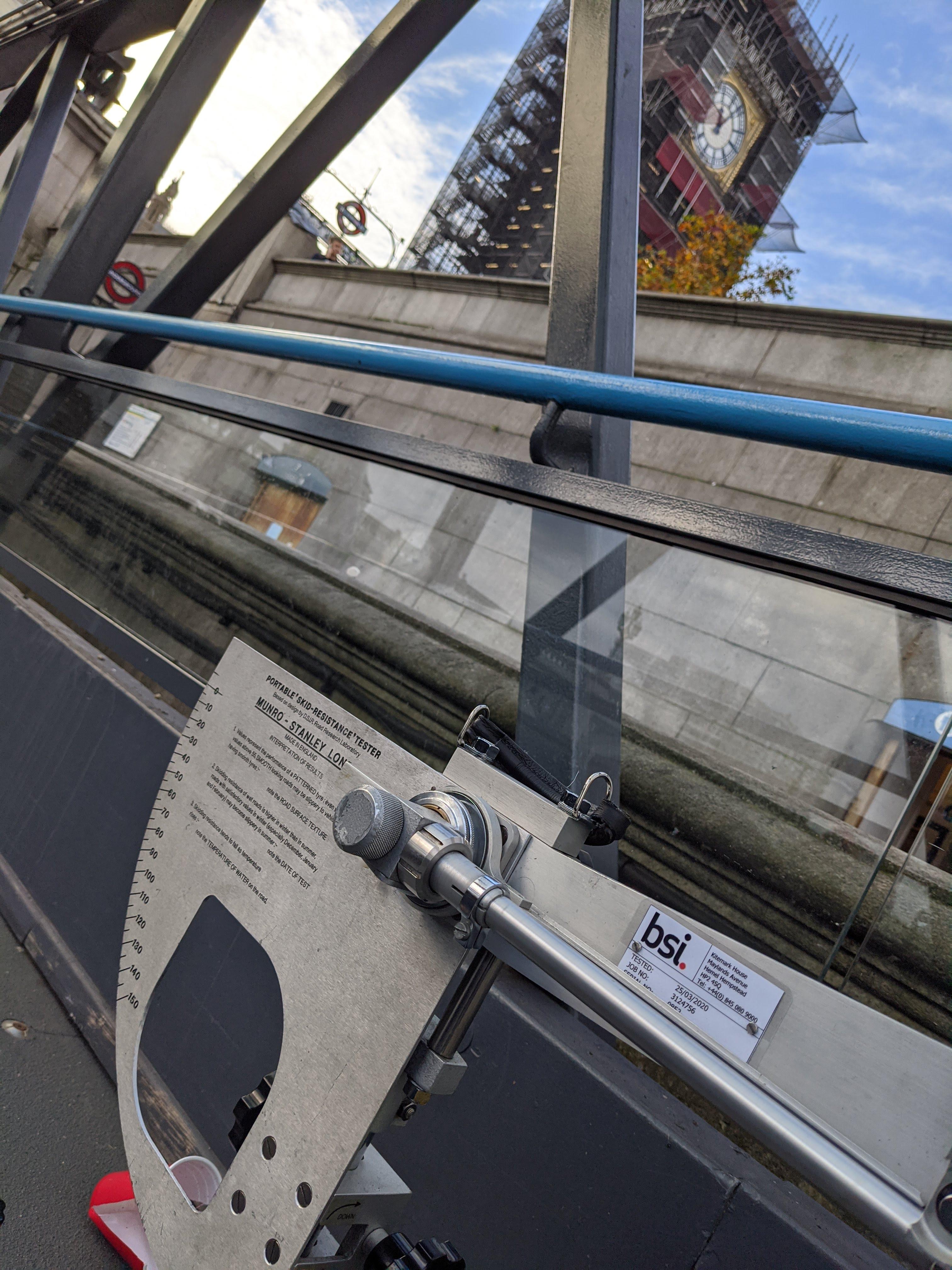 Components of an effective slip testing service
Evidence of accuracy
All test equipment is calibrated appropriately and calibration certification is included in our slip test reports, alongside certificates of conformity for all standard materials used. In addition, crucial verification checks are conducted and recorded prior to each and every Munro slip risk assessment.
Expertise
Our testing is conducted only by experienced competent operators. Our chief assessor has been conducting testing on a daily basis for over 12 years, with over 6,000 individual assessments under his belt. He is a full member of both the UK Slip Resistance Group and the Academy of Experts and a Technical Member of IOSH.
Reputation
Our services are regularly employed by forensic engineers, solicitors and lawyers in personal injury cases. We have been members of the UK Slip Resistance Group, the leading independent authority on slip resistance in the UK, since its inception. We regularly take part in domestic and international cross-laboratory research projects to further the understanding of pedestrian slip risk.
Compliance to established standards
Our slip test is conducted in strict compliance with the HSE's preferred in situ test method BS 7976 (the Pendulum), alongside the latest UKSRG Guidelines. Our risk assessment reports are produced to the same demanding standard as those we produce for the court in personal injury cases, because what use is a risk assessment that won't stand up in court?
Independence
We remain completely independent from any anti-slip solution providers. Our independence ensures an unbiased test, free from the commercial pressure to sell an anti-slip floor or treatment. If our slip test does show that surface improvement is required, we can impartially recommend anti-slip products from contractors or manufacturers we know and trust.
Price
When it comes to the safety of staff/visitors price shouldn't matter, but we know that it does. We aim to offer competition-beating pricing across the UK through efficient operation, economy of scale, and modest profit margins. As with most things, it is possible to get it cheaper, in some cases even free, but if your report lets you down in the event of an accident/claim you can expect to pay the difference many times over.
Floor Slip Testing Services; Assess the risk, prevent accidents, save money!
There are many myths around slippery floors; that if a floor is wet it must be slippery, that yellow floor signs grant immunity, that nothing can be done to prevent slips. Don't fall in to these traps. Get the right advice (and a Pendulum test) and you can reduce both accident rates and associated legal action, and you may be surprised just how little investment is necessary to address slip issues.
All slip risk assessments that we conduct are of the same quality as those that we conduct for the court in personal injury cases. We are firmly of the view that if liability is going to be determined on the basis of an expert slip test, then risk assessments must be up to the same standard if they are to be of use to a defending lawyer.
Slips are not inevitable, you can prevent unnecessary injuries, defend against slip injury claims and protect your bottom line, simply by acting now.
Places we perform Slip Testing
Responsible parties will generally have a duty of care to prevent staff, visitors and/or customers from slipping, so we have a wealth of experience Pendulum testing in a wide range of environments, including;
Slip Testing in airports
Slip Testing in museums
Slip Testing in stadiums
Slip Testing in wet leisure
Slip Testing in hotels
Slip Testing in railway stations
Slip Testing in public buildings
Slip Testing in restaurants
Slip Testing in shopping centers
Slip Testing in food production environments
Slip Testing in entertainment venues
Trust the experts
We have tested a wide range of surfaces for an extensive list of clients and numerous end uses. We have tested surfaces for Alton Towers, Bank of America, Beefeater, Bentley, Burger King, CBRE, Chelsea FC, Coca-Cola, Crowne Plaza, EAT Ltd, Engie, Ford, Galliford Try, Greggs, Harrods, Harvester, Heinz, Hilton, Intu, Jaguar Landrover, JLL, Jordans, KFC, Land Securities, LinkedIn, M&S, Marriott, Morgan Sindall, Motorpoint, Network Rail, Next, Pure Gym, Sika, Tarkett, Tata, The Belfry, The NEC Group, Tesco, The Princes Trust, The Savoy, The V&A, Thorntons, Transport for London, Twinnings, and Wimbledon... to name a few!
---
Contact us today for expert impartial advice on reducing slip risk in your premises.
Enquire about Slip Risk Assessment