Munro Pendulum Newsletter June 23
Support of new operators on railway network
Following purchase of a new Pendulum testing kit for a large contract, Munro were happy to support new operators on their first night shift conducting independent slip resistance measurements on London's railway network. Whilst operators had previously received training to ensure they could assemble, verify and operate the machine correctly, Munro attended simply to provide additional support and answer any questions that arose during that night's assessment. The operators finished their shift confident in their ability to provide a top-notch service in line with current UKSRG Guidelines.
The Hard Surfaces Show
Held at Excel on the 6th to 8th of June, Munro were invited along to support Steve Thorpe (chair of the UKSRG) and Richard Bowman (Australia-based slip expert and fellow UKSRG Member), primarily with provision of a Pendulum and associated test items in order to assist with a talk on slips and slip resistance. The show was interesting from the perspective of a slip risk consultant, as so many of the flooring finishes on offer were presented as "anti-slip" or "slip resistant" without having any relevant test data to back up the performance claimed. It seems flooring manufacturers/suppliers are continuing to stick stubbornly to the "R value" when marketing anti-slip floors. The R-value will tell you if the surface is safe when contaminated with motor oil and walked on in safety footwear, a rare end use condition. For products marketed to the UK, suppliers should be seeking a PTV of 36 or greater, in the conditions of end use, when tested to latest UKSRG Guidelines.
UKSRG Meeting
June saw the 2nd of this year's UK Slip Resistance Group meetings, this time kindly hosted by Altro at their rather swish Clerkenwell offices. We welcomed several new members to the Group, further expanding the Group's collective knowledge. Members benefitted from recaps of presentations by those contributing to the recent Toronto Slips Trips and Falls conference, and feedback was given on the Group's most recent round robin works. There was discussion at length around the (still!) soon-to-be-released issue 6 of the Guidelines, and we remain resolved, as a group, to ensure these are issued as soon as possible and likely on or around October's meeting.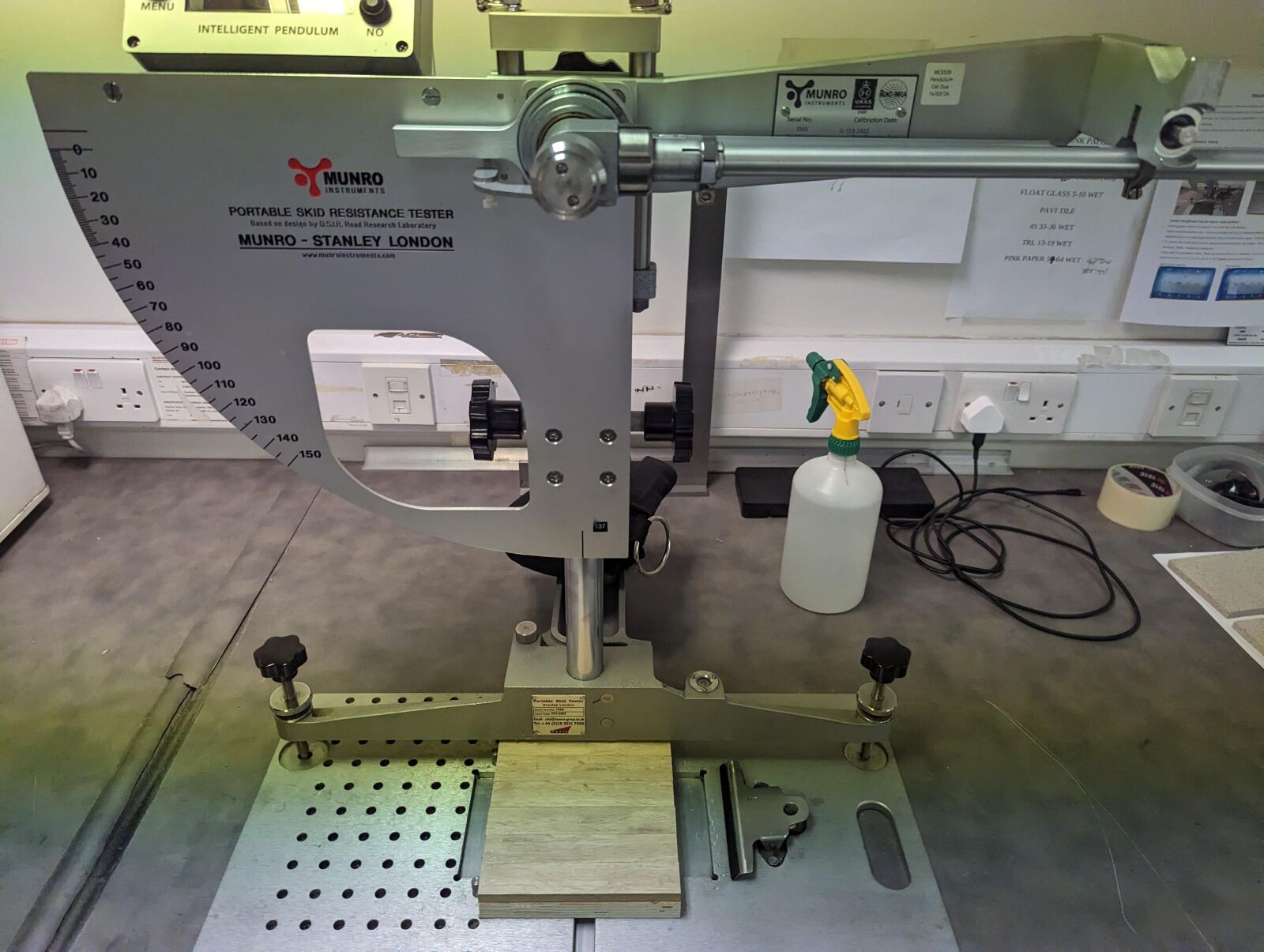 BSI B/507/7 Committee meeting
Spurred on by the recent release of a new testing standard, BS EN 16165, I applied to join the B/507/7 committee with a view to implementing changes both in 16165 standard and in the way generally that Pendulum test standards are issued. With only a few meetings under my belt so far, I am pleased to report that the committee is pushing through positive changes and seeking to improve the quality of 16165 as and where it can. Notably, the 'tidying up' of various fractured standards that include Pendulum testing but implement their own very brief standard/industry specific description of test method is exciting. All Pendulums will produce a PTV, but that PTV will be unique to the method in which it was chieved, so tightening up of these methods will improve overall consistency of results, simplify testing and increase the usefulness of results across industries.
Shopping centre Pendulum vs SlipAlert
We made an interesting site visit this week, securing a contract in competition with an alternative provider who we are certain was in fact providing SlipAlert test data in place of their claimed Pendulum test data. Testing of the same surfaces using the Pendulum where previous SlipAlert data had been reported made for some interesting insights, and particularly highlighted the tendency for the SlipAlert's unprepared slider to seriously over-estimate available grip levels on some surfaces. Whilst it was no doubt something of a disappointment for the Client to learn that some of their surfaces warranted improvement, the improved data from testing properly will have increased safety, reduced the likelihood of slip accidents and associated losses, and increased the defensibility of any associated slip injury claims. Relying on any method other than the HSE preferred Pendulum (to UKSRG Guidelines) is something of a lottery, as when the unfortunate accident does occur, someone like me would attend at the direction of lawyers to test fully and properly in line with industry best practice. Those relying on the typically quicker and cheaper SlipAlert assessment should balance the small savings they may be making against the potential for significant losses if the readings were found to be incorrect in a court of law.
Training of academics and anti-slip company
We rounded out the month with further provision of training packages at our Harlow premises. We showed academics from a prestigious London university how to operate the machine in line with best practice, and how to get the most out of their measurements. We also supported an active anti-slip company with certification of one of their operators. In my slip risk assessment role, I have seen some shocking anti-slip contractors, so it was really pleasant to work with a trainee who had obviously been on site numerous times and witnessed the testing his particular company was doing properly without any shortcuts. With the right kit, the right knowledge and the right attitude to testing, it is encouraging to know that their customers will benefit from properly certified safer floors. Our training packages have been useful to new and experienced operators alike, and provide a certificate that helps customers demonstrate to clients that they are taking the testing seriously. We can host, come to your premises, or provide training over zoom as necessary.