Slip Testing in Shopping Centres
Slip Testing in Shopping Centres
Carrying a vast quantity of pedestrians every year, it is typical that shopping centres large or small will suffer with the effects of slip accidents (and associated claims) on a regular if not frequent basis. Slips are not inevitable however, and Munro stand ready to help you effectively assess the slip risk across your estate and employ cost-effective measures to reduce risk where necessary.
Floor Slip Testing Services in Shopping Centres
There are many large shopping centres that we know of that take the approach of fast, cheap and widespread testing. From our experience in dealing with slip personal injury cases, we can say with certainty that this is not a particularly effective way to manage slip risk. For a slip risk assessment to stand up to the scrutiny of a court case you will need to test to the regulator's preferred BS 7976-2 Pendulum test. Whilst being incredibly robust, this approach is not without drawbacks, it is slower, and so more expensive, than alternatives. With an intelligently targeted testing regime of a smaller number of locations to a higher standard, Munro can provide a package that considers slip risk across expansive floor areas, relies on industry best practice test methods, and remains competitively priced even when considering the alternatives.
Anti-slip Flooring in Shopping Centres
If you are already conducting a huge number of slip tests across your shopping centre, please consider how useful this data actually is. It is typical that a general retail mall area for instance will be uniformly acceptable in dry conditions and uniformly slippery when wet, and 17 readings confirming this do nothing to inform your slip risk management strategies. Such measurements will not help your case in the event of a slip in wet conditions, and unless conducted to BS 7976-2 will not stand up in court in dry conditions. Consideration of the estate, and targeted robust testing, is likely to better serve both slip risk management decisions and the defensibility of any slip claims.
If you are not already testing in your shopping centre, the quickest and easiest way to reduce accidents, claims and associated losses is by undertaking a slip risk assessment at the earliest opportunity. It is highly likely that you are already spending more because of slips than you would on preventing slips.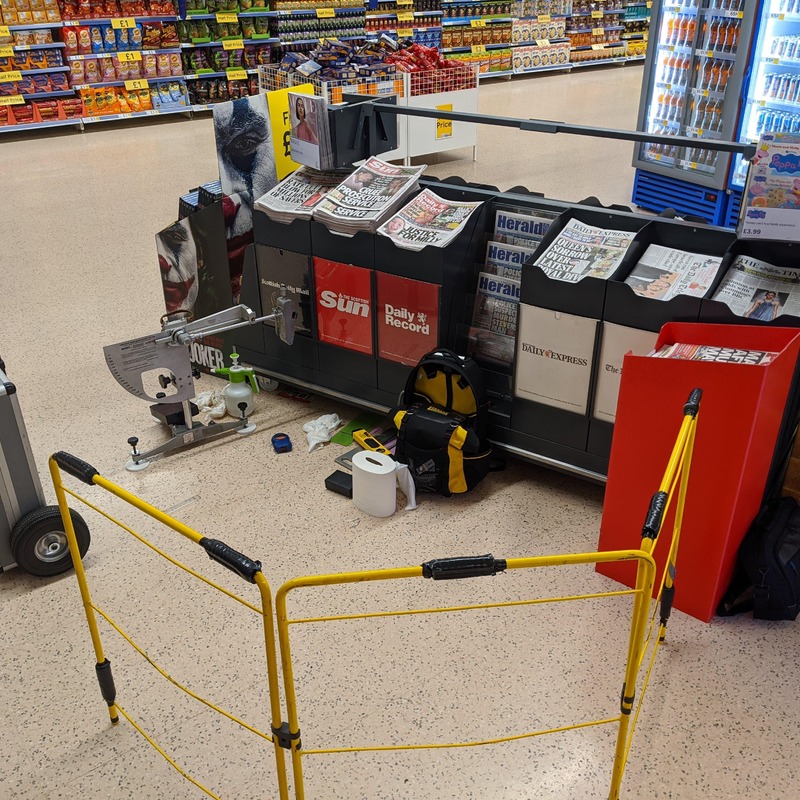 Munro's extensive experience in conducting slip risk assessment to exacting standards in a wide range of environments makes us an excellent ally in your efforts to reduce slip accidents in a shopping centre setting. Our risk assessment slip tests are conducted to the same standard as those we produce for the court in slip and fall legal claims, we don't benefit from any anti-slip products or solutions, and all works are conducted in accordance with the Health and Safety Executive's preferred method the BS 7976-2 Pendulum to UKSRG Guidelines.
For free, impartial and expert advice on slip resistance testing, contact Munro today and we will help you.